Home
I LOVE the high speed. My office is in NC and I work in Florida. I download every day, huge files over the internet. I do it all wirelessly. Without your high speed, I would have had to move these files from NC to FL on CDs. Thanks, PANGAEA!
It is very unique to have such a fast, professional service in this area
PANGAEA has made a significant impact on our school
For any business network, switching to PANGAEA should be a no-brainer
Exceptional customer service, extremely competitive price
Great partner for a broadband solution. Fast and reliable, quick to respond.
We have never experienced an outage
Top notch speed and reliability
Above and beyond our expectation for service
What is PANGAEA?
PANGAEA [pan-jee-uh] is a non-profit internet service provider. Our "Speed of Light" fiber network has expanded to nearly two hundred miles, serving the major arteries of Polk and Rutherford Counties in western North Carolina. PANGAEA Internet provides the following services:
Traditional internet bandwidth (unlimited speeds)

Education
Health Care
Government
Commercial
Wholesale to Residential Internet Service Providers

Wide area fiber optic networks (e.g., school, medical, legal networks)
Fiber leasing
Why PANGAEA?
Community Owned Non-Profit focused
on the community, not shareholders. 
Very Low Cost Structure

Non-profit cost structure

Capital costs funded through grants and partner funding

Disciplined focus on bandwidth and transport

Customized Pricing

Less than 50% versus competition

Installation discounts

Grants available

Extremely Reliable Network

Two downstream bandwidth providers

Diverse fiber routes to Charlotte

Back up equipment and power sources

Local support on call 24×7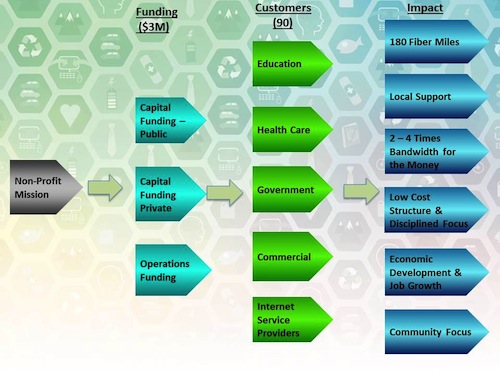 PANGAEA's Impact
PANGAEA Internet plays a key role in attracting companies to our area by offering reliable internet service at virtually unlimited speeds and a very affordable cost.

Though we don't offer residential service, we believe we make life better for local residents every day.

When we asked our customers, 98% of them agreed that PANGAEA Internet has a positive impact on our community.
What's Happening
FOR IMMEDIATE RELEASE (Contact Ron Walters at 828-859-3072 or ronw@e-polk.org)
Town of Forest City, Rutherford County Schools, PANGAEA Internet, and Facebook Launch Pilot of Free Wi-Fi Program for Local Students
TRYON, NC (July 17, 2014)  The Town of Forest City, Rutherford County Schools, PANGAEA Internet, and Facebook Inc.
Stay Connected   Like us on Facebook Follow us on Linkedin
In This Issue WIN in PANGAEA's Sweepstakes New Customers Customer Appreciation Night Scholarship Awards Introducing Doug Dickerson Quick Links Home Network Map Testimonials Referrals Contact Us Meet the Board Joseph Crowder, Secretary
I am honored to have served on PANGAEA's Board of Directors for the past nine years and to have been a part of the company's growth from an original run of 7 miles of fiber-optic cable to almost 200 miles today.  Most importantly, PANGAEA has stayed dedicated to its mission of improving the quality of life and stimulating economic development in Polk and Rutherford counties.
Stay Connected Like Us on Facebook Follow us on Linkedin In This Issue Summer Intern Wanted March Madness Winner! Testimonial Winner! Sweepstakes Coming Soon! New Customers Broadband Summit Rutherford Business Showcase Wi-Fi Trial in Tryon Quick Links Home Network Map Testimonials Referrals Contact Us Meet the Board  Jim Edwards, President "As a founding member of the Board, I am proud to have been a part of the growth of PANGAEA's broadband service to Polk and Rutherford counties.
Forms