PANGAEA Internet Earns National Recognition from Broadband Communities
TRYON, NC / April 28, 2015 – PANGAEA Internet (PANGAEA), the leading commercial provider of high-speed fiber optic internet service for Polk and Rutherford Counties, North Carolina, has received the Cornerstone Award from Broadband Communities magazine. The award was presented to PANGAEA Executive Director Ron Walters at the Broadband Communities Summit, held April 14-16 in Austin, TX.
Each year, Broadband Communities assembles a committee of industry leaders, analysts, and writers to honor a select number of recipients for outstanding accomplishments in the area of delivering telecommunications for the benefit of the end user. The 2015 presentation marks PANGAEA's second Cornerstone Award, having also received the award in 2004.
According to the judging committee, "We can think of no better illustration of the value of a fiber network than the story of this non-profit serving Polk and Rutherford Counties that began on such a small scale and now connects middle mile and last mile customers at some 150 locations, including businesses, healthcare facilities, government offices and all the public schools."
Additional comments from the judges acknowledged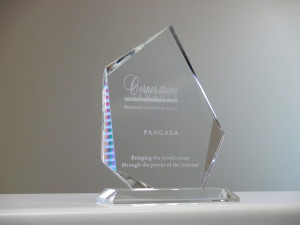 PANGAEA's impact on:
Education – "PANGAEA brings a wealth of resources to
students and teachers, helping students compete with
cohorts in much richer school districts."
Healthcare – "Facilities served by the PANGAEA
network experience greater productivity, speedier access
to information and more effective use of professionals."
Government – "The local and county governments that are customers of PANGAEA are equipped to communicate with other government entities instantaneously, and to pool resources and reduce costs while improving services." Judges also noted the impact of PANGAEA Internet on regional economic development, citing PANGAEA's involvement with the construction of the Facebook data center, the Ameridial call center, and other efforts to support economic growth in Polk and Rutherford counties.
"On behalf of our board of directors, staff and supporters, we are very pleased to be a 2015 Cornerstone Award recipient," said Walters. "This award acknowledges and reinforces our efforts to support our community and improve the overall quality of life for local residents."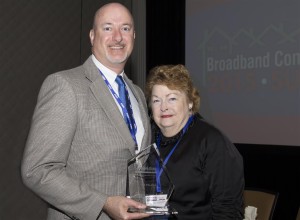 Ron Walters receives the 2015 Cornerstone Award from Jane Patterson, President, The View Forward – Go Forward. Photo credit: Rachel Ellner for Broadband Communities magazine.