PANGAEA Internet Free Public Wi-Fi Improving Quality of Life


TRYON, NC / August 21, 2015 – PANGAEA Internet (PANGAEA), the leading commercial provider of high-speed fiber optic internet service for Polk and Rutherford Counties, is a non-profit company that is focused on the community, not shareholders. As part of this commitment, PANGAEA is involved in several projects designed to enhance economic development, improve the quality of life, and create a broad platform of innovation enabling underserved areas.
Among these projects are multiple efforts to deliver free public Wi-Fi in the PANGAEA service area. After a successful pilot project brought free Wi-Fi to downtown Tryon, a recent grant from the Appalachian Regional Commission has expanded the project to the downtown business districts of Chimney Rock, Lake Lure, and Saluda. As shown in the accompanying graph, use of the service has grown dramatically during the summer tourist season.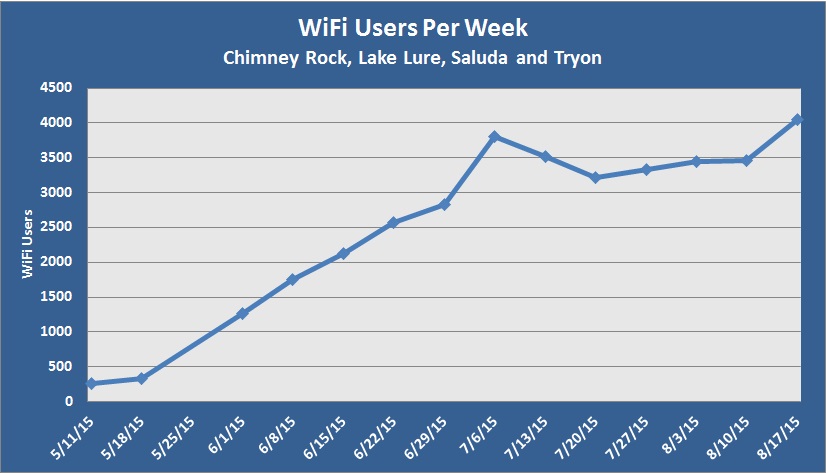 "Saluda, Lake Lure, and Chimney Rock Village share a business and tourism corridor," said Ron Walters, Executive Director of PANGAEA Internet. "They are a hub of tourism in the region and a key driver of employment and economic activity. Our free public Wi-Fi network provides a convenient, reliable, and economical alternative to cellular data services."
With this expansion of public Wi-Fi, more than 11,000 users have connected to PANGAEA Wi-Fi in the last month. Stu Davidson, PANGAEA's Operations Director, said "the utilization and performance of this network has far exceeded my expectations. The communities have provided valuable input into the network design and I'm really pleased by the impact it is having."
Another ongoing Wi-Fi project called "Connect" is a collaboration between PANGAEA, Facebook, the Rutherford County Schools, and the towns of Forest City, Rutherfordton and Spindale. Connect provides free public Wi-Fi service to areas with high concentrations of students, enabling them to take full advantage of Rutherford County Schools' 1:1 program, which has provided a notebook computer to each middle and high school student since 2011.
Since the project launched, Connect now provides service to more than 5700 users each month. "Connect and our community collaboration continues to invest in our region's students," said Walters. "With the increasing number of users we have seen since we began this project, it's clear that our efforts are making a difference in our communities."
---
PANGAEA Internet (pan-GEE-ah) is a non-profit provider of high-speed fiber optic internet service. Our network currently serves customers at over 150 locations across Polk and Rutherford Counties, including public school districts, city and county governments, health care facilities, and local businesses. Visit us online at www.pangaea.us, or contact Executive Director Ron Walters at 828-859-3072.